PPCS is committed to energy conservation through load management.  Together with our SHIFT for Savings program, PPCS members can significantly reduce demand, protect the electric grid, and keep electric rates flat. When demand is low, wholesale power is less expensive.  PPCS members who sign up for load management take advantage of reduced electric and water heating rates that can be controlled during periods of high demand.  By controlling these devices through load management, PPCS can balance electric demand more evenly, which helps reduce overall costs.
Members who are not enrolled in load management can also help lower demand by voluntarily shifting the times they use electricity to non-peak periods.  In the fall, winter, and spring, that means reducing non-essential electric use from 5 PM to 9 PM; in summer, lowering electric use from 2 PM to 7 PM. Sign up today to receive SHIFT for Savings notifications when demand on the electric system is high using the form below.
Load Management Test for Dual-Fuel Electric Heating
Load management receivers for dual-fuel electric heating systems will be tested on Wednesday, November 15, 2023, from 6:55 a.m. to 11:00 a.m. The test ensures our load management system is working properly before the winter heating season.
Thank you for participating in PPCS' load management program. If you have any questions, please contact us.
FAQ
Load management is a tool used to help balance the demand for electricity with the ability to generate and economically purchase electricity. Dairyland Power Cooperative (DPC) and its member cooperatives save money by delaying the need to construct additional power plants and reducing the need to purchase expensive power during periods of high demand.
Dairyland is a Midwest Independent Transmission System Operator (MISO) member. MISO ensures reliable power and equal access to electric generation and transmission in 15 U.S. states and in Manitoba, Canada. Consequently, Dairyland's use of load management may also be affected by the larger MISO region's energy demands and weather patterns.
Load management saves energy and money. When we reduce energy use during peak demand times, we forestall the need to build new, expensive electricity generation facilities and transmission equipment to meet your electrical needs. Load management also provides for more efficient use of the facilities we have, which helps keep rates affordable. It does so by reducing the system's total demand during peak use hours—generally between 2 to 7 PM in the summer (May-Oct.) and 4 to 9 PM in winter (Nov.-April). Extremely warm or cold weather also creates a high demand on the energy system, with the increase in air conditioner or furnace use. 
Dairyland Power Cooperative restores loads in a manner that safely brings accounts back online so that the system doesn't peak again. This may result in certain loads not being fully restored within the stated control window For example, water heating in the winter may not be fully restored until 11 PM, even though the control period ended at 9 PM.
Load management involves techniques such as interrupting water heaters or air conditioners for short periods of time and controlling when irrigation pumps or grain drying systems run. Most residential customers experience a seamless shift, with members' thermal storage hot water and dual fuel heating systems accommodating the interruption. Commercial and industrial facilities may use generators or simply reduce electricity use for a special rate.
Electric water heating: Electric water heaters are intended to operate under PPCS' load management program. Load management of electric water heaters can occur at any time, depending on the water heater size. PPCS encourages members to use larger-capacity water heaters to accommodate the longer load management durations.
The load management receiver is a small radio receiver that is connected to the electric water heater circuit or the off-peak electric heating equipment. During times of peak load, the receiver picks up a radio signal to interrupt power to the electric water heater, the electric heating equipment, and/or the central air conditioning unit. The lights in the small window of the load management receiver indicate how the receiver is functioning.
Green Light/Amber Light. The green and amber lights indicate there is a proper power supply and a radio signal to the receiver.

Red Lights. Any red light indicates an appliance, such as a water heater, electric heat, etc., is being interrupted. The absence of a red light indicates the normal operation of your electric heat and/or water heater. Another sign that load management has been initiated is that your backup source of heat will be operating

Cold Load Pickup. When power is restored after an outage, all load management receivers go into a shutdown mode for several minutes, and all lights will be on. Following this phase, your system should again be operating normally.
Max Generation Event Control takes place when demand may exceed generation/transmission capacity in MISO territory. (year-round)

Full Load Control typically takes place when demand for electricity is peaking in the mid-west. (summer and winter)

Economic Control takes place when the market price is too high to pass onto the membership. Many anticipated economic controls do not take place but could if the need arose. (year-round)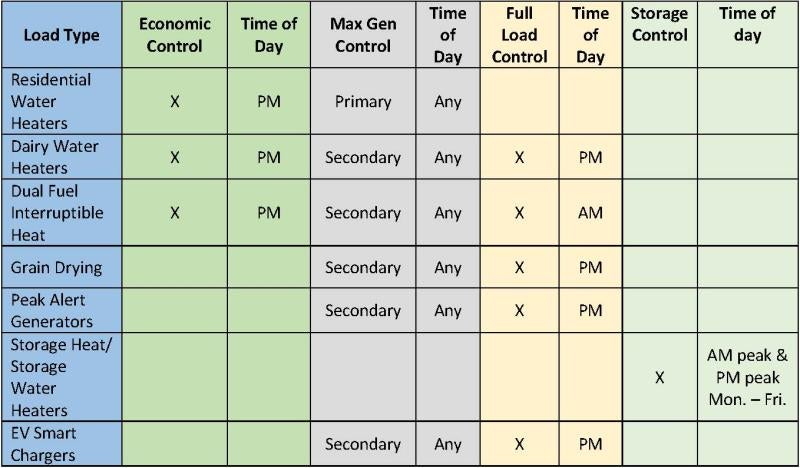 If you are not sure how your control is set up, call 800-924-2133, ext. 133, and we can provide that information based on your off-peak loads.
Members with electric resistance heat (baseboard or heat pumps) and no storage or thermostatically controlled fossil fuel backup heat can expect to be without heat for up to four hours during a control period.

Members with an automatic backup storage or thermostatically controlled heating system can expect to be off for up to six hours during a control time.
It is the homeowners' responsibility to make sure that there is adequate heat to keep the pipes from freezing during a control event.  If your home is heated by baseboard only, you may want to investigate adding a thermostatically controlled backup heat, such as an ETS unit or gas fireplace.  You may want to check your home for proper insulation levels also to help retain the heat in the home. 
Under normal conditions, you should not run out of hot water. If you do, please call PPCS at 800-924-2133, ext. 133. We can help diagnose if you are having a problem with the water heater or if the problem is related to the control time.  In most cases, we can change the control time if needed.
Air conditioners participating in load control with be cycled every 15 minutes throughout the control time.  The air conditioner will be on for 15 minutes and off for 15 minutes for the control period.
SHIFT for Savings is a program for PPCS members not enrolled in a load management strategy.  Members can enroll in SHIFT for Savings to receive alerts from the cooperative via email, text, or telephone calls.  (The standard texting rates will apply if you do not have a texting plan on your cell phone.)  The message will inform you of the anticipated day and time of the peak period to remind you of the importance of reducing energy consumption during this critical period.  Peak use hours are generally from 2 to 7 PM in the summer (May-Oct.) and 4 to 9 PM in winter (Nov.-April).
SHIFT for Savings Notification