Looking to purchase an electric vehicle or do you already own one?  PPCS has the information and programs to help you get the most out of your EV investment.  Review the information below and contact us for more information.  We want to make sure that owning and charging your electric vehicle is as easy as possible. 
Looking for information about a specific electric vehicle?  EVInfoList let's you research electric vehicles from the comfort of your home.
PPCS has a program available for you to charge your EV on our storage rate.  Click on the EV image at right to learn more.
Most manufacturers will have some sort of electric vehicle option by 2023
An estimate of 20 million electric vehicles (EV) will be on the road in the US by 2030
Average driving distance per day in the US is 37 miles
Battery warranty is 8 years or 100,000 miles from all manufacturers.  Some Tesla drivers have driven over 300,000 miles and still have 80 to 90 percent battery capacity.
Charging Levels (Cars get roughly 3 miles per 1 kwh)
Level 1: Provides charging through a 120 V AC plug and does not require installation of additional charging equipment.  Can deliver 2 to 5 miles of range per hour of charging. Most often used in homes, but sometimes used at workplaces.
Level 2: Provides charging through a 240 V (for residential) or 208 V (for commercial) plug and requires installation of additional charging equipment.  Can deliver 10 to 20 miles of range per hour of charging. Used in homes, workplaces, and for public charging.
DC Fast Charge: Provides charging through 480 V AC input and requires highly specialized, high-powered equipment as well as special equipment in the vehicle itself.  (Plug-in hybrid electric vehicles typically do not have fast charging capabilities.) Can deliver 60 to 80 miles of range in 20 minutes of charging. Used most often in public charging stations, especially along heavy traffic corridors.
| | | | | |
| --- | --- | --- | --- | --- |
| Charging Level | Level 1 | Level 2 | Level 3 - Fast Charging DC | Level 3 - Ultra Fast DC Charging |
| Voltage | 120 | 208 - 240 | 480 | 480 |
| Amps | 12-16 | 12 - 80 | Up to 125 | Up to 600 |
| Charging Demand (kW) | 1.4-1.9 | 2.5 - 19.2 | Up to 90 | Up to 500 |
| Charging speed (miles/hr) | 4 | 25 | 159 | 20 – 30 Minutes? |
What is the right location for me to install the charger?
Who is going to install the charger?
Will I have proximity to power?
Will I need a GFI breaker installed if the charger is not hardwired?
What electric rate will I pay when charging?
How will the metering be done?
Have I contacted my electric utility to make sure my service is the correct size?
Yes!  PPCS has two 40AMP Clipper Creak EVSEs located in our front parking lot (level 2 charging).  
85% of charging will be at home, 10% at work, and 5% will be public.  This means that most days, you will not have to wake up and get "fuel" before you go to work.
Level 1 charger: $300 to $600
Level 2 charger: $500 to $1,000
Level 3 charger: $10,000 minimum
The above costs are for the stations only.  Additional labor and parts for an electrician will vary.  You may also need to upgrade your electric service panel which can add additional costs.  
Make sure to do your homework before purchasing.
CHARGE EV, LLC, was created in 2020 by 31 electric cooperatives in Illinois, Iowa, Minnesota, and Wisconsin to promote electric vehicle (EV) adoption. Cooperative affiliates are now located in eight states. As electric cooperatives partner with other companies  within the EV industry, CHARGE™ will expand its national charging network to showcase hidden gems throughout rural America. Learn more at https://charge.coop or on social media: @ChargePoweredByCoops (Facebook).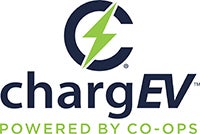 We believe that hooking up your vehicle to charge overnight is the most cost effective way for you to charge your vehicle.
Our Electric Vehicle charging is at a Time of Use rate. On-Peak is Monday through Friday from 5:00 a.m. to 9:00 p.m. Off-Peak is Monday through Friday from 9:00 p.m. to 5:00 a.m. and all day on Saturday and Sunday. The Time of Use rates are:
      On-Peak =  $0.125/kWh
      Off-Peak = $0.105/kWhmiles/year X 1.8 drivers = 24,300 miles/year